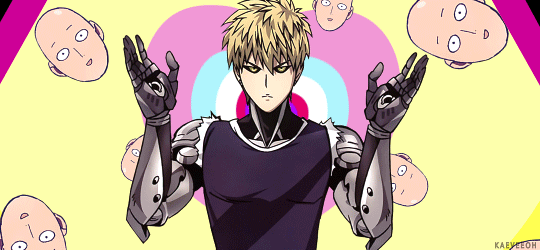 Wait… is a disciple a bro? Can one even be a bro? Let's go with my headcanon and call this a bromance. Cool? OK? OK.
Here we have a couple of Saitama and Genos items so you too can celebrate this duo.
Eat like a hero if you keep your lunch in this One-Punch Man Genos and Saitama Lunch Bag. You can even watch One-Punch Man and try and steal some of Saitama's recipes. I know some great leek stores I can point you in the direction of.
I bet you thought your keys had enough Saitama going on. Wrong! You need more! And a little Genos. Pre-order the One-Punch Man Saitama and Genos Key Chain now and complete your set of One-Punch Man keys!
Lastly… of course, is this One Punch Man Genos 1:6 Scale Action Figure. You can add him to the Saitama action figure instructions above for even more hero training power. Cyborgs have to weigh a bit right? OK. All joking aside, this action figure is really awesome! Not only does it come with detachable cyborg face and body pieces but it also comes with multiple outfits. Oh… and it lights up in the eyes, chest, and palm just like Genos in the show. He may not be able to stop a crazed mosquito lady but he's still really awesome.
Pre-order all of this stuff now! Or else… some kid with a butt for a chin will mock you for eternity.
Comments
comments