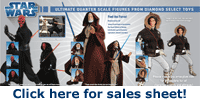 Feel the Force!
19-inches tall!
Sound effects and phrases.
Individually layered costumes.
Collect the entire legendary line!
"At last we will reveal ourselves to the Jedi. At last we will have revenge." The Star Wars Ultimate Quarter Scale line begins with none other than the deadliest Sith Apprentice this side of the Battle of Naboo… Darth Maul!
Feel the Force with these Star Wars Ultimate Quarter Scale Action Figures! Movie accurate and featuring key sound effects and voice phrases from the Star Wars films, each incredibly detailed, 19-inch tall figure includes a layered cloth costume, hyper-realistic sculpt, and 23 points of articulation. But wait, there's more-- he has accessories!
Double lightsaber splits in two and connects by magnets!
Removable cloak features wire hood that you can pose!
Swappable left hand lets you change his pose!
Awesome droid-control bracelet and macrobinoculars add to the figure's great look!